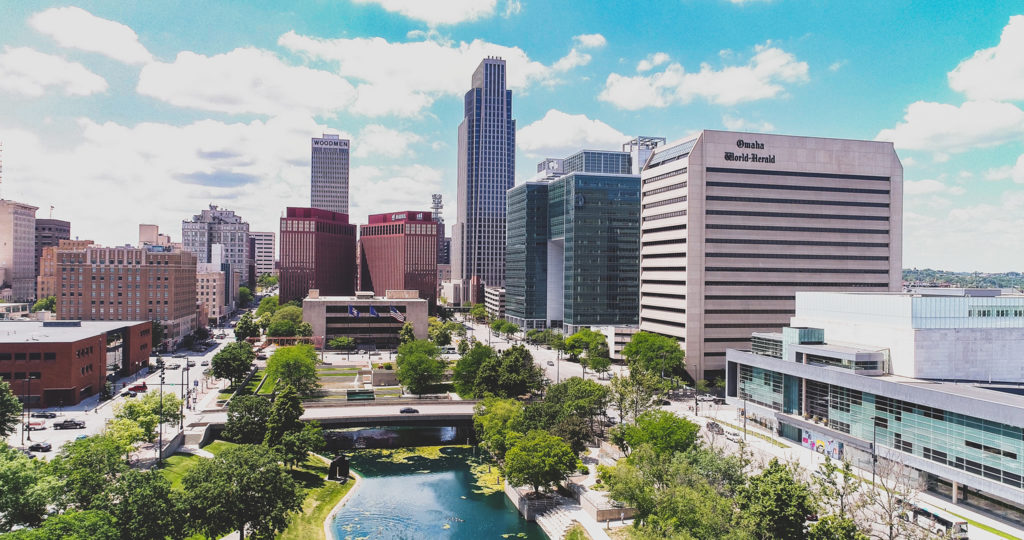 Are you making a change that takes you to the Midwest city of Omaha, Nebraska? You are in luck to be moving to a city that offers many cultural and social attractions, a less expensive cost of living compared to many similar-sized cities, and a vibrant economy. They have a saying of, "We Don't Coast!", reflecting the forward-thinking community that is unique from West Coast and East Coast cities, yet equally vibrant and hip. Here are twelve things you need to know about Omaha that might surprise you.
1. Omaha has many different communities.
Omaha is the largest city in Nebraska. It is the central city to a surrounding group of 30 townships and communities called "Greater Omaha" that covers parts of two states and eight counties. Omaha itself has grown over the years, annexing eleven different incorporated areas into its boundaries. Although the city of Omaha has over 400,000 people, the Greater Omaha area has over 900,000 people. According to 2017 statistics, residents in Omaha that resided in the Washington County part of Omaha had about an 11% poverty rate, compared to those who lived in the Cass County area, where poverty rates were about 6%.
Different townships and communities offer many choices for both home buyers and renters. The median price for a home in Omaha is about $150,000. The cost of living is 11% below the national average (2014 statistics) making Omaha a lot more affordable than Colorado or California. The housing market is very competitive, with houses often getting multiple offers and going under contract in about a week. The World Population Review found that 57% of people who live in Omaha are homeowners, rather than renters.
2. There are many large companies in Omaha.
According to USA Today, Omaha is eighth among the nation's 50 largest cities in and Fortune 500 companies and both per-capita billionaires. Remember, this is the home of Warren Buffet! The largest employers are Offut Air Force Base, CHI Health, and Omaha Public Schools. In addition, companies that reach consumers both nationally and globally which have home offices in Omaha include ConAgra Foods, several tech-based companies including LinkedIn and PayPal, and various insurance companies, such as MetLife and Mutual of Omaha. There are many places in Omaha to find employment with good benefits and salaries.
3. The weather in Omaha can be extreme.
Omaha sits in the Midwest of the United States. It has both high temperatures in the summer, and lots of snow in the winter. Although there is an average of 214 sunny days a year in Omaha and the rainfall amount is below the national average, there is an average of 38' of snow each year. In addition, Nebraska as a state in "Tornado Alley", a pathway of higher than an average number of tornados; however, Omaha is ranked #24 out of the top 25 cities that are likely to experience tornados. You are much less likely to experience a tornado in Omaha than it is to experience an earthquake in California or a wildfire in Texas.
4. Omaha has great music venues and cultural opportunities.
Omaha is considered a destination for great concerts and music events. In 2013, MTV Iggy ranked Omaha as #2 of the top 9 "up and coming music scenes" in the U.S. With a wide range of indie and national bands coming to play in Omaha, you will find the style of music festival or concert that best fits your tastes. In addition to contemporary music, Omaha has a 2,000-seat concert hall at the Holland Performing Arts Center where the Omaha Symphony performs. Opera lovers will enjoy the Orpheum Theater, managed by the Omaha Performing Arts, which also offers a variety of plays, musicals, and Broadway talent. The Orpheum is also the home to the Omaha Ballet, a real cultural icon!
5. Omaha has a World Class Zoo, Museums, an Aquarium, and a variety of sports venues.
Think you need to go to San Diego to see the best zoo? Wrong. The Omaha Zoo was ranked the best zoo in the world in 2014 by TripAdvisor. It includes a fantastic aquarium and is expanding to include natural habitat African animal exhibits. It is NOT just animals in cages. In Omaha, local philanthropists have supported both cultural and historic preservation, making Omaha a great place for either a vacation or a home. There are several museums, including a railroad museum. Most of the museums are free of charge, due to the generous support of their patrons.
Sports lovers will enjoy Omaha events, such as The NCAA College World Series, the U.S. Olympic Swim Trials, and the University of Nebraska Omaha athletic programs, including award-winning collegiate wrestling and ice hockey teams. Omaha residents also love the University of Nebraska-Lincoln football powerhouse, the Huskers, who compete in the Big Ten conference. Division 1 baseball and basketball are two other of the many great sports that play at this large University. Omaha is only an hour's drive from Lincoln, so it is an easy drive for some real collegiate sports excitement.
6. You probably need a car to live in Omaha.
According to https://www.walkscore.com/NE/Omaha, most errands require a car. The walkability score is 45, while the transit score is 27, meaning there is public transportation available, but it is limited. To get to work and run errands like going to the grocery store or shopping, you will probably need your own car. The gas prices in Nebraska are about the national average, but less than either coastal state of New York or California.
7. Omaha has excellent medical facilities.
There are major hospitals in Omaha that provide services for both adults and children. Omaha is home to the Nebraska Medical Center, the only Level 1 trauma hospital in the state. In addition, there are several cancer hospitals, including the highly ranked Nebraska Medicine Fred & Pamela Buffett Cancer Center. There are several hospital and outpatient surgery centers that specialize in children's care, making Omaha a great place to safely raise your family.
8. Omaha has commute times below the national average.
"On the whole, Nebraska residents have the fifth-shortest commute time in the nation, at just over 18 minutes each way, which is below the national average of 26.1 minutes" (Cunningham, 2018) Greater Omaha itself has a shorter commute time than several other counties in the state.
Cunningham, M. (2018). US Census Bureau releases daily commute times across Nebraska. Retrieved from KETV 7 Omaha: https://www.ketv.com/article/us-census-bureau-releases-daily-commute-times-across-nebraska/14928162
9. Omaha is a growing city that thrives as it increases its diversity.
Omaha Population Growth
"Since 2000, the population of Omaha has increased 13% and the state as a whole has increased steadily, although it has lagged behind the national average for more than twenty years. Omaha and its suburbs are expected to continue moderate population growth in the coming decade" (Wikipedia)
US Census 2017 ACS 5-Year Survey (Table B03002) reported these statistics:
According to the most recent ACS, the racial composition of Omaha was:
White: 78.17%
Black or African American: 12.32%
Asian: 3.50%
Two or more races: 3.14%
Other race: 2.29%
Native American: 0.52%
Native Hawaiian or Pacific Islander: 0.06%
US Census 2017 ACS 5-Year Survey (Table S0101)
The percentage of the population is about 49% male and 51% female.
The median age is 34.3
10. There is an eclectic mix of restaurants and bars in Omaha.
There are hundreds of restaurants and bars in the Greater Omaha area. Some of the most renowned are The Grey Plume, serving gourmet New American Cuisine, Dario's Brasserie, serving French comfort food, and Au Courant Regional Kitchen, which offers many original dishes and a fun tasting menu.
The Benson neighborhood boasts being the "Craft Beer Capital", with a variety of Nebraska created brews, but don't overlook 36th and Farnan streets, which is known as "Beer Corner USA". A variety of tours and events centered around breweries are available in different seasons.
The Platte River Valley rivals Napa Valley when it comes to wine. There are several vineyards that offer tasting rooms and tours for wine connoisseurs, such as the award-winning Soaring Wings Vineyard and the Slattery Vintage Estate Vineyard. Both offer Nebraska made wines that you will enjoy.
11. Omaha offers many different parks and outdoor activities.
Like to jog, canoe, horseback ride or hike? Omaha has a place for all of that and more at our different state parks in the area. Some, like Waubonsie State Park, have cabins and camping facilities. In addition, you can take advantage of the plentiful snow by visiting Mt. Crescent for skiing and snowboarding.
IF you love golf, Greater Omaha has four dozen different courses. Omaha has something for everyone interested in outdoor recreation!
12. Statistics and additional information about Omaha.
The Greater Omaha Chamber of Commerce and the Omaha Chamber of Commerce both have a wealth of resources for new residents on schools, activities, and neighborhoods. Here are some resources you may find helpful!